Browsing articles in "Nerd Fun"
Awww, this poor little AT-AT Walker was damaged in battle and now he has to wear a cone to prevent him from tearing off his new leg bandage. So cute! Can't get enough of this adorable fella? Then share the love by wearing the tee shirt everywhere you go. Or, better yet, buy a bunch and give them away as presents to all of your friends this holiday season!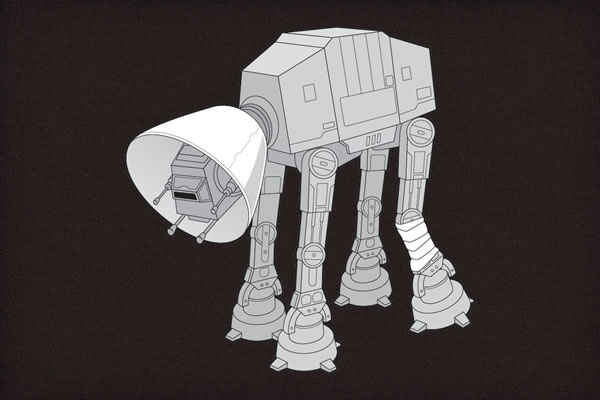 Via Boing Boing / Boing Boing Shop

Happy TARDIS Day, everyone! On this day back in 1963, the very first episode of "Doctor Who," the beloved scifi TV show, aired on the BBC. That means the Doctor's been on television for a whopping forty-eight years now. Astonishing!
What's even more incredible than how long the Doctor's been kicking around? His adventures are still one of the most exciting, intelligent and ridiculously wonderful dramas on TV today. For a fuller, more in-depth explanation of what makes the legendary show so great, check out megafan Craig Ferguson's fun, nerdy musical tribute. Love it!
To celebrate today's TARDIS Day anniversary, the video below features a compilation of all the "Doctor Who" music themes used over the years, from the first season to the present. Enjoy!
Via Set Phasers to LOL / Brian Rimmer